Caring Conversations
Uncomfortable But Essential Questions To Help You Navigate Life's Biggest Disruptions
by: Daniel & Nancy Nicewonger
Chaos and disruption are a part of life. Having the conversations that allow us to navigate seasons of disruption is a skill that can be learned.
In May 2016, our world was turned upside down.
I first met Dr. Saroha the day he told me I had stage IV colon cancer. Standing at the foot of my hospital bed, he told me the "outlook was not good; it was time to go home and get my affairs in order."
As he left my room Nancy and I were distraught and overwhelmed. Every conversation became much more intentional. We wanted to squeeze the most out of every moment we had together. At the same time, we realized there were pressing issues that needed to be talked about. We tried to find a balance between taking care of business and simply enjoying time together.
Nancy and I started noting all the conversations we were having. Learning to discuss choices between "prolonging life" and "quality of life" the same way we used to plan a vacation has not been easy. It is often painful, and we have learned the signs when the other needs a break from such weighty conversations.
Over time we started talking about how it would have been helpful to have a roadmap to guide our conversations. Something to help us think through what was important to talk about and share while fighting a terminal illness. A resource that would not tell us what to think but rather suggest questions to ask of ourselves and each other.
We began to think of all our friends and partners who helped guide our conversations. Their wisdom made this season manageable and allowed us to find peace and joy amidst chaos. As we thought about this book we invited them to join us. Their insight is invaluable. We are excited for you to hear their voices as you seek to have caring conversations in times of disruption. A list of those who have participated can be found below. 
Each chapter is laid out with a few introductory paragraphs followed by a list of questions. We share why a topic is important to be thinking about and then provide questions for you and your loved ones to reflect upon. Providing good questions is the most helpful thing we can do. Your journey will be different than ours. Our answers will not fit your situation. The most helpful thing we can do is provide some questions to help you start having caring conversations. Our goal is to help create that roadmap we so desperately wanted in the early days of our journey.
We hope you find this resource helpful. May you find peace, hope, and joy in the midst of disruption.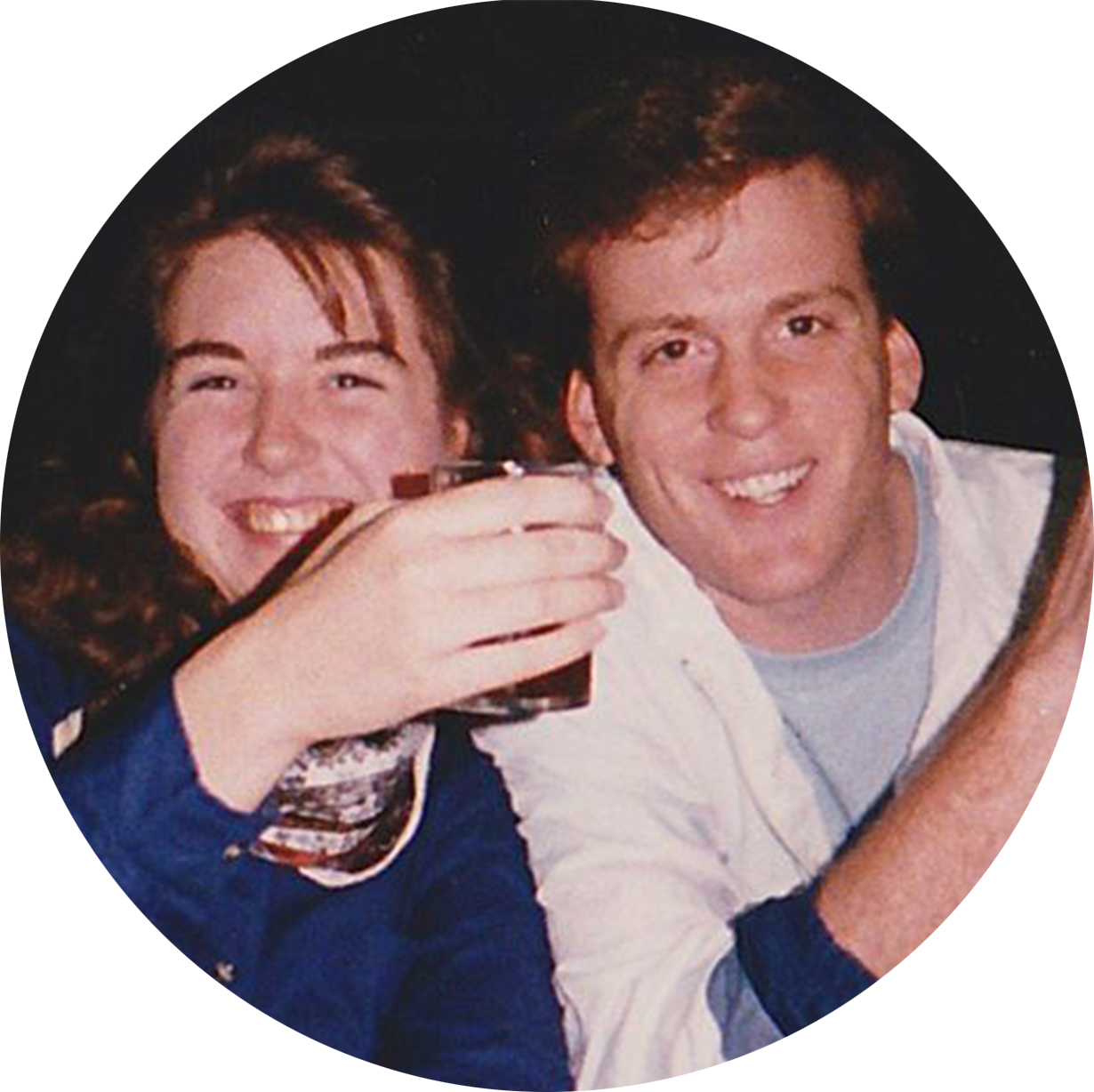 This picture was taken in our college cafeteria.  Nancy and I met while students at Messiah College. We were married a few weeks following graduation. The furthest things from our minds were the kind of disruptions that have been a part of our lives. Looking at this picture, there is a part of me that longs to go back to those days, and another that is glad for lessons learned and love strengthened as we traveled through the disruptions. – Dan
Nancy and I are very blessed to have partners and friends who have helped us navigate our season of disruption. We are excited that they were willing to share some of their wisdom in helping you navigate the disruptions that come your way.
John Blair is a co-founder and Managing Director of Client Relations for DT Investment Partners, LLC. He is responsible for developing and maintaining all aspects of client relationships for DT Investment Partners' diverse client base that includes institutions, individuals and sub-advisory clients.   Mr. Blair has 33 years of investment industry experience.  He has been married for 34 years and has two children. 
Matt Grieco has been a funeral director and celebrant in Pennsylvania and Delaware for over 25 years.  His two firms are Grieco Funeral Home & Crematory in Kennett Square and Naugle Funeral & Cremation Services of Quakertown, PA.  He lives in Kennett Square with his wife Sherry and three kids, Wilson, Peyton and Jordan. He is a skilled trumpet player and regularly plays in ceremonies for his client families.
Joan Holliday lives in ChaddsFord, PA with her husband of 55 years. She has three children and five grandchildren. Nine years ago she retired from public health nursing in Southern Chester County after 32 years. She is founder of Bridging the Community and serves as a Faith Community Nurse and Consolation minister at her church. Community building has been her passion expressed through the Kennett Community choir and Kennett Community Intergen Coffee Klatch.
Reverend Annalie Korengel has served as the pastor of Unionville Presbyterian Church since 2012. She also serves as a police chaplain for several local police departments. In addition, she serves as a grief and trauma counselor and has worked as a hospice chaplain. Her passion is to sit with folks in the dark spaces in their lives.
Chris Lawrence is a writer, outdoor guide, and the founder of Hope Has Arrived. He was diagnosed with stage IV bile duct cancer in the spring of 2016. A few months after diagnosis Chris found a cancer research doctor who tried a new approach to treat his cancer. The treatment worked, and Chris has been in remission for six years and counting. He and his wife and two kids live in Colorado.
Daniel Nicewonger has served as a pastor for churches in NY, MA, and PA. He spent six years working for Corning Inc. in Midland, NC. A diagnosis of stage 4 cancer launched Dan and his family on a journey, not of their choosing. Retired in 2021 Dan spends time writing and working to help people find ways to experience "life to the full." Dan and Nancy have been partners in life. Their adult children, Joseph and Rayann are a source of joy and blessing.
Nancy Nicewonger has worked in the field of education for over 30 years. Early childhood education has been her area of focus. Nancy has an MA in conflict resolution. Currently, she is the manager of Professional Development for First Up, based in Philadelphia. Married to Dan for over 33 years, Nancy has partnered with him in ministry and in life. Family, including their 2 children, has always been a priority. 
Rayann Nicewonger is the second child of Dan and Nancy Nicewonger. She was 16 years old when her father was diagnosed with stage 4 cancer. She has had first hand experience of walking through life with a parent with a terminal illness. In the book she writes about the many emotions and feelings that can come with a diagnosis and how to talk about them. Rayann graduated from West Chester University in May 2021 with a degree in Psychology. She currently works as the Assistant Director at J.A.M. Christian Daycare.
Michael R. Perna is an estate planning attorney who has been practicing in Southern Chester County, Pennsylvania for over thirty-five years.  His general practice law firm is located in Kennett Square, where he was born and raised.  Over the years, he has been active in multiple community groups and service organizations, including coaching a local youth football team.
Christina Reid has been a Pennsylvania/Delaware agent for over 17 years. She is still excited to talk about Real Estate every day. It is her profession and passion. She strives to earn the role of "trusted advisor" by her clients and friends. She feels great satisfaction helping people, whether buying or selling, make informed smart choices in an increasingly complicated world.
Chaplain Tony Tilford is the co-founder of Total Health Encouragement Ministries, which seeks to encourage health and healing emotionally, mentally, physically, relationally, and spiritually. His experience includes serving as pastor of numerous congregations for over forty years, as well as being a chaplain for hospice, Alzheimer's, and psychiatric care.